---
Pakistan and Sri Lanka share warm and friendly relations through a long history based on religion, culture and trade. In modern times both countries further cemented the cooperation through sports, technology, and defence. Pakistan and Sri Lanka commenced formal trade in 1955 by providing most-favoured nations status (MFN) to each other. On the trade front Sri Lanka's exports to Pakistan were $91.86 M. in 2021 and Pakistan's exports were $394.34 in the same year, while combined trade volumes were around USD 486 M. The trade balance between the two countries has been in favour of Pakistan for the last five years. This is no surprise because in international trade most of the time the bigger economy always tends to export more to the smaller economy. 

At present Pakistan is the 26th export market for Sri Lanka and the 12th import partner of Sri Lanka. The other notable feature is that neither country is in the other country's top 10 export or import destinations. This was in contrast to the trade patterns in the past. In 1977, Pakistan was Sri Lanka's largest export market with a share of 8.67% supported by strong market penetration of traditional products such as Ceylon Tea amounting to 27,617 MT. Even In 1990, Pakistan accounted for 45.8% of Sri Lanka's exports to SAARC countries and 27.6% of Sri Lanka's imports from the same region. Thereafter, the trade volumes between the two countries showed a sharp decline. The trade landscape between Pakistan and Sri Lanka is supported by the Pakistan Sri Lanka Free Trade Agreement (PSFTA) signed in August 2002 effective July 2005, South Asia Free Trade Agreement (SAFTA) and South Asia Preferential Trade Agreement (SAPTA). Under the PSFTA Pakistan offered duty-free market access to 206 products and Sri Lanka granted duty-free access to 102 products.     
Bilateral trade flow under trade agreements, value in US$ Mn
However, Sri Lanka's low export volumes in 2021 under FTA concessions amounted to 67% of total exports to Pakistan. The dominant partner Pakistan managed to channel around 93 % of its exports to Sri Lanka outside the PSFTA. The PSFTA provides low tariff restrictions for both countries, but the existing negative list, non-tariff barriers have overshadowed the impacts of tariff rationalisation under the PSFTA and in turn, has been the major impediment to the export performance of both.

Need to enhance SL tea export
Future works on Sri Lanka – Pakistan trade under the FTA should be focused more on identifying realistic export opportunities for Sri Lanka in Pakistan's markets and identify possible constraints which Sri Lankan exporters may face in diversifying export to Pakistan. A similar exercise should happen in Pakistan as well since Sri Lanka is an important market for textile products, machinery, and pharmaceuticals along with other products that Pakistan records significant exports to other countries. 

Any FTA provides a significant market share to partner countries on the drawing board but to get the best out of FTAs is a challenge for some countries. Sri Lankan negotiators should understand the dynamics of international trade and key success factors for effective FTAs. According to a trade complimentary index prepared by SAARC Chamber of Commerce and Industry (2020) in Islamabad, Pakistan-Sri Lanka bilateral trade has the combined potential of over US$ 2.7 B. One of the major opportunities for Sri Lanka is to enhance its tea export which has rapidly declined since the 1970-80s. 

Sri Lanka lost the Pakistan tea market to Kenya mainly due to the low cost tea that came from Kenya. 

Although the imposition of quotas, licences are against the spirit of free trade, Sri Lanka needs to explore more innovative ways of utilising the quota offered by Pakistan under the FTA for Sri Lankan tea. The famous quote 'The old questions can only be solved by new solutions' provides the direction to solve the challenge of utilising the quota up to 10,000 MT of Ceylon Tea in all forms under the FTA.
Lucrative investment destinations
Pakistan and Sri Lanka are both lucrative investment destinations and the close proximity (1,531 nautical miles) between the two countries can be covered within four days. Therefore, speedy delivery of goods is a positive factor for both countries. By and large both are English speaking countries with a sizeable proportion of upwardly mobile middle class income earners providing an excellent opportunity for marketing communication. It's important that both Governments encourage their exporters to tap the partner country market by incentive's and granting tax concessions on expenses incurred on research, innovation, and value addition and branding in the partner country to help them adjust to the demands of the partner country market. In the case of Sri Lanka the trade support measures need to be upgraded, among which is the need for rationalisation of HS codes, implementation of aggressive productivity improvement plan across the major industries, establishment of the national single window, introduction of progressive National Trade Policy (NTP) based on national interest, setting up of a specialised unit for market intelligence, granting subsidies to Sri Lankan exports and special grants to encourage SME exports.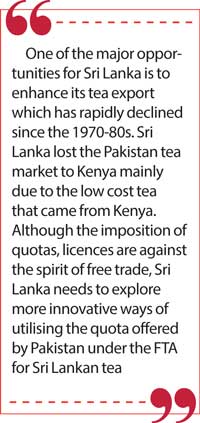 Author Mr. Ajith D. Perera is the Executive Secretary of APTA Chamber of Commerce and Industry; President – Professional Business Coaches Association; and former Secretary General/CEO – Federation of Chambers of Commerce and Industry of Sri Lanka (2014-2022).
Reference Link:- https://www.ft.lk/columns/Pakistan-Sri-Lanka-trade-flow-needs-to-adjust-to-market-demand/4-753171