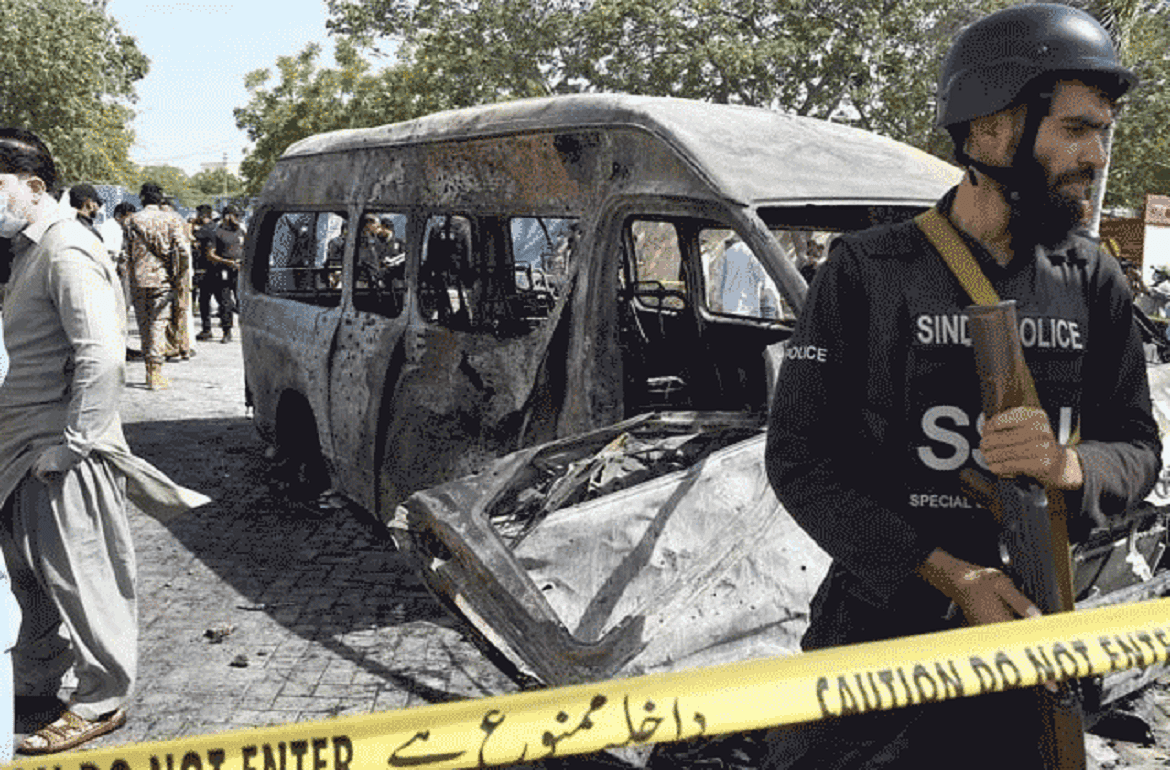 Pakistan strongly condemned the reprehensible terrorist attack in Karachi which claimed innocent lives, including those of Chinese nationals working at the Confucius Institute.
The law enforcement agencies are investigating the incident to apprehend the culprits and bring them to justice. Local authorities are also providing all possible assistance to the injured. The incident is considered a direct attack on the Pakistan-China friendship and ongoing cooperation: Pakistan and China are close friends and iron brothers. Pakistan attaches great importance to the safety and security of Chinese nationals, projects, and institutions in Pakistan.
Several attempts were made to harm CPEC, China-Pakistan relations, by attacking Chinese nationals, projects, assets, and interests in Pakistan, so the recent cowardly attack on Chinese teachers was taken very seriously by Pakistan as well as China.
Chinese foreign ministry spokesperson Zhao Lijian on Friday said that fighting terrorism is a shared responsibility of the international community, calling for coordination and cooperation to combat terrorism. Zhao made the remarks at a regular press briefing when asked to comment on the UN Security Council on Thursday condemning the terrorist attack on the University of Karachi, which claimed the lives of three Chinese nationals and one Pakistani and left several people injured.
Mr. Wang Wenbin, a Chinese Foreign Ministry spokesperson said on Thursday that China and Pakistan had the resolve and capability to cut off the claws of terrorists who attacked a van of the Confucius Institute at the University of Karachi and make them pay the due price.
Terming terrorism as a common scourge of all mankind, he said that the Pakistani side was taking all-out efforts to investigate the attack and apprehend the perpetrator. The spokesperson reiterated that China and Pakistan's iron-clad friendship was deeply rooted in people's hearts. "China supports Pakistan's national development and will continue to support its economic and social development and improvement of livelihood," he added.
The Pakistani government had promised to strengthen security for Chinese personnel, projects, and institutions, and would not allow any force to undermine our friendship and cooperation. It is believed that Pakistan will take earnest and concrete measures to ensure the safe and smooth progress of bilateral cooperation. He once again reminded the personnel of the Chinese institutions in Pakistan to heighten their security awareness and watch out for terrorist risks.
Wang Wenbin said it is China's consistent view that cooperation between countries and regional initiatives should be in keeping with the overriding trend and people's aspirations and be conducive to promoting regional peace, stability, and prosperity, rather than be aimed at forming exclusive cliques detrimental to mutual trust and cooperation among regional countries.
China and Pakistan, are both countries that are committed to promoting peace, stability, development, and prosperity, and will overcome any hurdles in their path. Both will strengthen cooperation and collaboration further to face such challenges jointly. Our struggle will be continued till the enemies of peace, stability, development, and prosperity, are defeated completely. It is urged that the International Community and the UN also play their part of the role in curbing cross-border terrorism. Menace of terrorism is an international curse and should be addressed collectively.
Reference Link:- https://wgi.world/china-pakistan-s-stance-against-the-cross-border-terrorism/