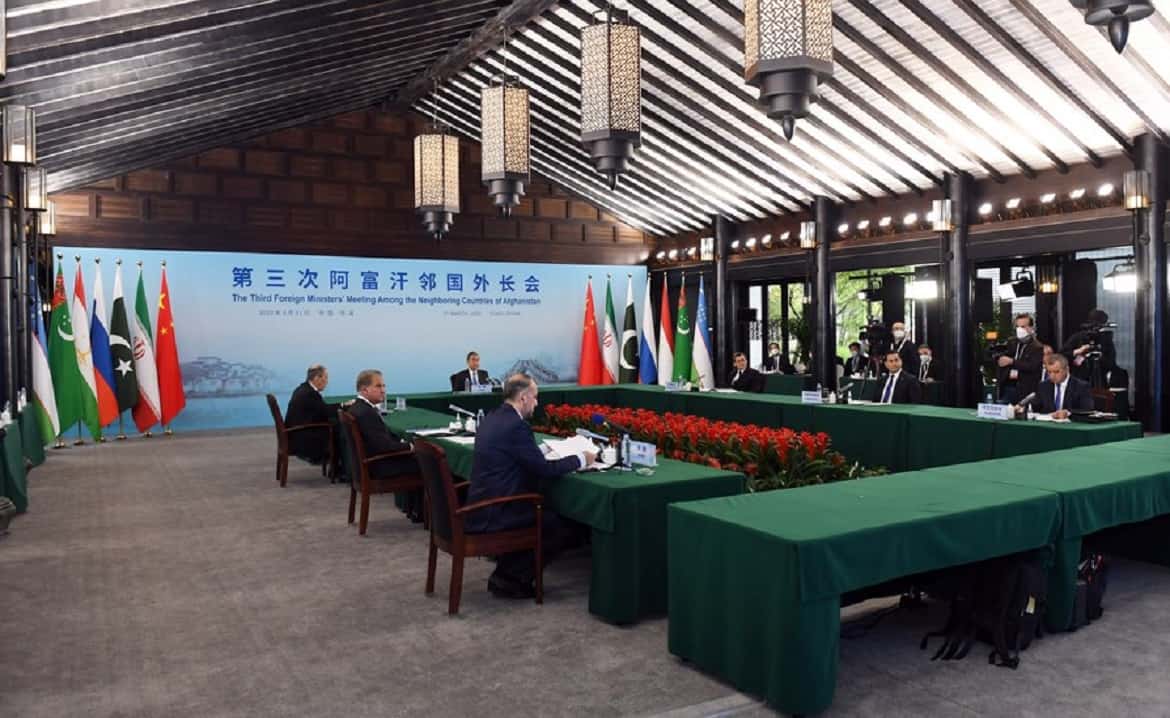 All parties at the meeting note that with the end of long years of war in Afghanistan, the country is now struggling with serious economic and livelihood difficulties as well as challenges across sectors. All parties pledge to support Afghanistan's economic reconstruction in areas such as humanitarian assistance, connectivity, economy and trade, agriculture, energy, and capacity building.
Humanitarian assistance
All parties decide to provide further humanitarian assistance to Afghanistan and call on the international community to give more support to Afghanistan, to help it to restore cash liquidity and avoid a humanitarian disaster.
1 – China will speed up delivering its commitment to providing Afghanistan with emergency humanitarian assistance such as food, winter supplies, COVID-19 vaccines, and medical equipment, and is ready to provide additional humanitarian assistance through bilateral and multilateral channels.
2 – China will continue to provide Afghanistan with vaccines, medical equipment, medicine, and other anti-epidemic supplies, carry out cooperation in Traditional Chinese Medicine, support the operation of Afghanistan's medical and health systems, and help Afghanistan fight COVID-19.
3 – Iran has sent more than 30 Humanitarian aid shipments including food, medicine, and health items to help the people in different cities of Afghanistan, and is consulting and coordinating with the Afghan side to send new supportive shipments.
4 – Iran will continue to provide emergency fuel and food and other necessary daily life items to the people of Afghanistan.
5 – Pakistan announced an in-kind humanitarian assistance package of Rs. 5 billion (around $ 30 million). Pakistan has provided more than 13,000 tons of humanitarian aid to Afghanistan under Pak-Afghan Cooperation Forum and provided three consignments of wheat to Afghanistan. Pakistan has also been channelizing humanitarian assistance from various philanthropic organizations of Pakistan.
6 – Pakistan is also acting as a channel to facilitate the flow of international humanitarian assistance to Afghanistan, including providing a transit facility for Indian wheat to Afghanistan on an exceptional basis for humanitarian purposes and facilitating the UN Humanitarian Air Service (UNHAS) air bridge between Islamabad and Kabul.
7 – Pakistan hosted the 17th Extraordinary Session of OIC-CFM in Islamabad on 19 December 2021 where, inter alia, the following was decided:
a – Establishment of a Humanitarian Trust Fund for Afghanistan (formalized during the 48th OIC Council of Foreign Ministers meeting in Islamabad)
b – Appointment of Ambassador Tarig Ali Bakheet as Special Envoy of the Secretary-General of the OIC for Afghanistan
c – OIC General Secretariat, together with Islamic Development Bank and the Humanitarian Trust Fund, to devise a roadmap in concert with UN system organizations for unlocking financial and banking channels
d – OIC General Secretariat, in concert with World Health Organization and other relevant stakeholders, shall secure vaccines and medical supplies for Covid-19
e – Launching an Afghanistan Food Security Programme, under the aegis of the Islamic Organization for Food Security (IOFS)
8 – Pakistan continues to provide free Covid-19 vaccination for all Afghans entering Pakistan, works with the Bill Gates Foundation for the eradication of Polio in Afghanistan, and is allowing Afghan patients and their attendant's entry into Pakistan to enable their treatment in hospitals across Pakistan.
9 – Russia stands ready to continue its humanitarian assistance to the people of Afghanistan.
10 – Tajikistan will continue to provide its logistics means, in particular through the six bridges across the Tajik-Afghan border, to deliver humanitarian assistance to the people of Afghanistan. Tajikistan will maintain the functioning of border crossing point Panji Poyon for transporting food and other vital products to the people of Afghanistan.
11 – Tajikistan will also continue to offer medical services to the citizens of Afghanistan residing in Tajik-Afghan border areas.
12 – Turkmenistan will continue to provide humanitarian support to Afghanistan on a systematic basis, which is expressed in the construction of medical and educational institutions on the territory of the neighboring country, preferential supplies of electricity, training of Afghan students in educational institutions of Turkmenistan, regularly sending of humanitarian convoys to Afghanistan and other types of help and assistance.
13 – Turkmenistan will continue to send humanitarian cargoes to Afghanistan with food, textile, and household products, medicines and medical supplies, as well as oil products.
14 – Turkmenistan from its own resources will supply medicines to the medical center built by Turkmenistan in the province of Faryab and the maternity hospital in the Turgundi city of the province of Herat.
15 – Uzbekistan expressed readiness to use the capabilities of the international transport and logistics hub in the city of Termez for the delivery of humanitarian cargo to Afghanistan.
Reference Link:- https://wgi.world/the-support-for-afghanistan-from-the-neighboring-countries/