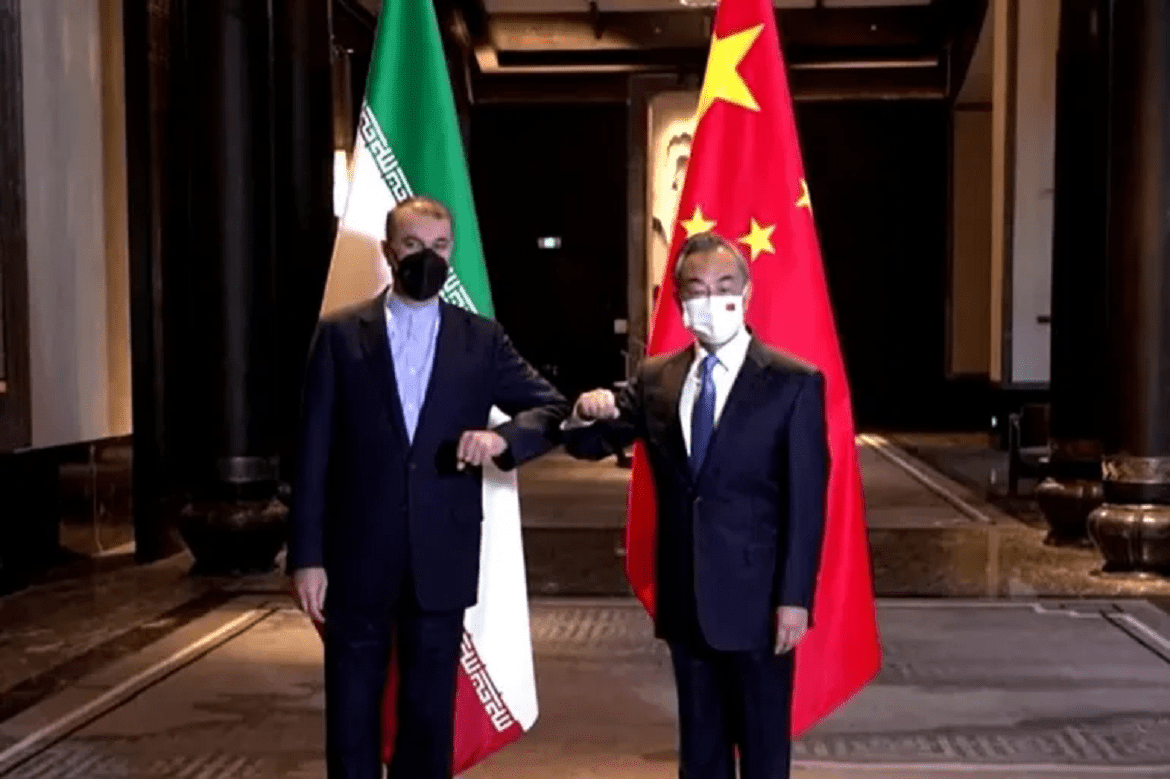 Rapidly changing geopolitics may benefit a few nations while ending the chapter of the West's domination. It is a natural cycle in human history, few nations rise, while some fall. Roman-Empire, once a sign of power, was followed by several superpowers, like the British, French, Turk, US, Russia, etc. It is well-conceived that after a peak there is always a fall.  
China and Iran have started implementing their 25-year accord already, which envisaged economic and security cooperation and development in these fields. Iran's foreign minister Hossein Amirabdollahian, in his first visit to China, announced after talks with his Chinese counterpart Wang Yi. Under this accord, China will make a multi-billion dollar in Iran which will be in addition to the long-term purchase of Iranian oil.
"While preparing for the visit to China, we had made preparations to be able to mark today as the starting day of implementing the comprehensive agreement between the two countries," Amirabdollahian said.
Signed in Tehran on March 27, 2021, when former President Hassan Rouhani was in office, the "strategic accord" entails economic, military, and security cooperation, even as both countries are under different levels of United States sanctions.
The landmark China-Iran comprehensive cooperation agreement, signed in March last year and which moved into its implementation phase on Friday, will see the two countries expand cooperation on energy, infrastructure, production capacity, science and technology, and medicine and health care, according to a statement from China's foreign ministry.
Bilateral cooperation will also be expanded to third-party markets, and in areas including agriculture, fisheries, and cybersecurity, as well as people-to-people and cultural exchanges, according to the statement that did not give further details.
During his visit, Amirabdollahian also delivered a letter by President Ebrahim Raisi to President Xi Jinping, which he said contained an "important message" for Raisi's administration.
He did not elaborate on the contents, but the Raisi administration has repeatedly emphasized an "Asia-centric" foreign policy that includes China as an important factor.
The Iranian foreign minister landed there shortly after China's Yi held talks with the secretary-general of the Gulf Cooperation Council (GCC), and the foreign ministers of four of its member countries – Saudi Arabia, Kuwait, Oman, and Bahrain – in addition to the Turkish foreign minister.
As for the ongoing talks in Vienna on Iran's nuclear deal with a number of western countries within the framework of the Joint Comprehensive Plan of Action (JCPOA), he appreciated the positive role of the Chinese envoy who, together with his Russian counterpart, stood up to defend Iran's nuclear talks and the need for removal of anti-Iran sanctions.
Amirabdollahian went on to hope that the western parties of the JCPOA would adopt a realistic view with the objective of reaching a good agreement that would entail the rights and interests of the Iranian nation.
Highlighting the absence of any initiatives by the western countries in the Vienna talks, the Iranian foreign minister said both the EU countries and the US offer good rhetoric in their non-paper messages but fail to offer any true initiatives in practice.
China has become Iran's lifeline since Washington reimposed sweeping sanctions on Tehran, the South China Morning News (SCMN) said Saturday, adding:
China ramped up its purchases of cheap Iranian crude last month after independent refiners were granted additional import quotas for 2021. The nation imported almost 18 million barrels in November, equivalent to about 600,000 barrels a day, according to market intelligence firm Kpler. US officials have reportedly threatened to enforce sanctions targeting Chinese firms over these Iranian oil sales.
Iran is also seeking Moscow's support, with Raisi visiting Russia soon. The two countries are expected to sign a 20-year cooperation agreement to boost trade and military ties. Reports said this could lead to aerospace purchases and other items, such as new jets and technology, the SCMN concluded.
The US in solidarity with Israel is exerting extreme pressure on Iran and can go to any extent further. But, Iran's close ties with China and Russia, may prevent the US from such an extreme step. At least, the US and Israel may think twice before taking any extreme measures against Iran, as China and Russia have deep interests in Iran and may not stay spectators merely.
As a matter of fact, the China-Iran agreement may have far-reaching implications in the region as well as globally. It will be pivotal in geopolitics in the days to come. The rise of China and the revival of Russia may have a huge impact on geopolitics and the domination of the US may weaken.
Reference Link:- https://wgi.world/china-iran-agreement-may-have-strong-geopolitical-implications/