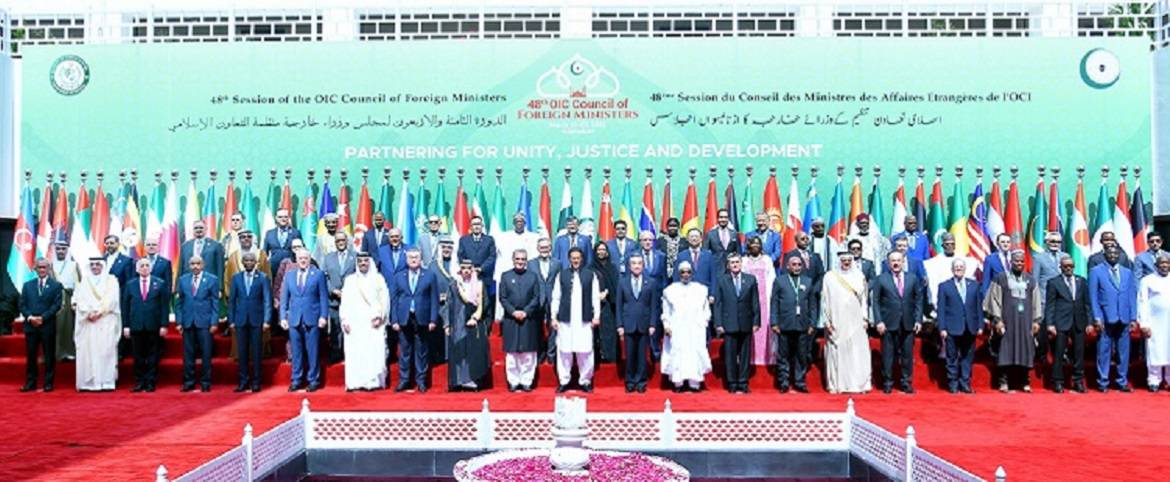 The Ministers of Foreign Affairs and Heads of Delegation of the Member States of the Organization of Islamic Cooperation (OIC), participated in the 48th Session of the Council of Foreign Ministers, held in Islamabad, Pakistan, on 22-23 March 2022.
Nearly 800 delegates attended the meeting. Chinese Foreign Minister Wang Yi was the special guest at the conference (first time in OIC's history).
The agenda included deliberations on Palestine, Indian-occupied Jammu and Kashmir, and Afghanistan, as well as on issues related to Muslims in Africa and Europe, and developments in Yemen, Libya, Sudan, Somalia, and Syria. Islamophobia, international terrorism, and cooperation in the economic, cultural, social, humanitarian, and scientific fields were also discussed.
Muslims were facing severe challenges for decades and has been a victim of various aggressions, invasions, conspiracies, and discrimination. After suffering the loss of millions of lives, millions of homeless, destruction of infrastructure, political instability, hate, discrimination, the menace of intolerance, extremism, terrorism, and islamophobia, has reached the awareness and importance of unity. Islam is the religion of peace, and Muslims were the major contributor to Science, Technology, Trade, and the global economy. History is full of Muslim achievements and contributions to society. Muslims all over the world are serving humanity in various capacities, yet, are discriminated against. Muslims wanted to revive their lost traditional status in the civilized nations and want to play a constructive role in attaining global peace, stability, development, and prosperity. 
I believe this spirit is revealed in the declaration of the 48th Session of the Council of Foreign Ministers of OIC.
Reference Link:- https://wgi.world/oic-the-70-points-of-the-islamabad-declaration/