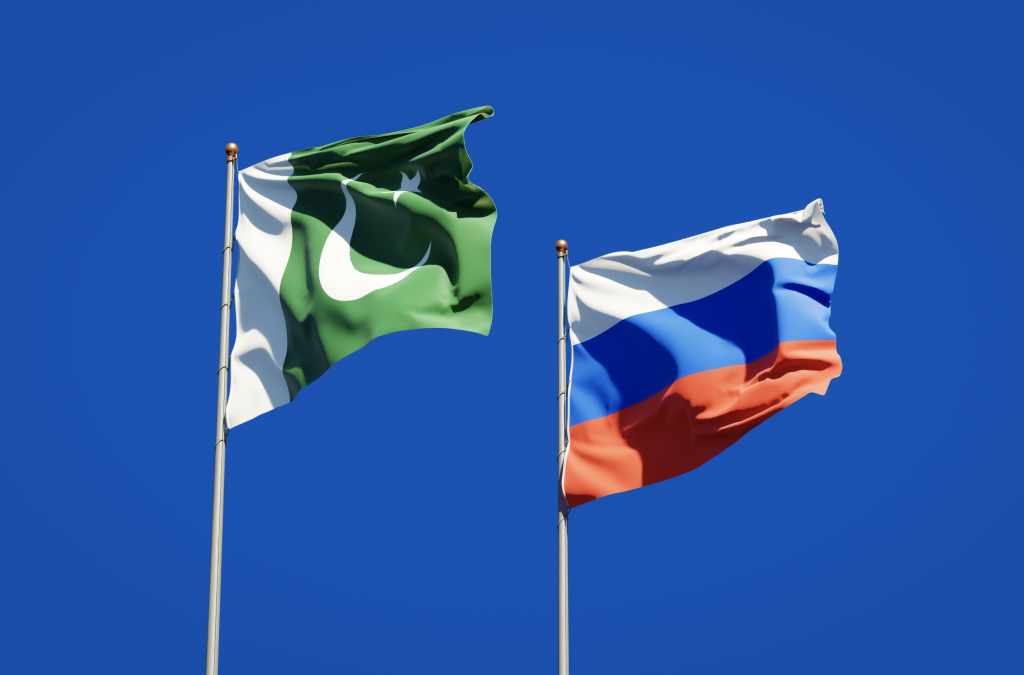 Prime Minister of Pakistan Mr. Imran Khan is scheduled to visit Russia by the end of this month. It will be a significant breakthrough in the diplomatic efforts of both countries and a big achievement. The rapidly changing geopolitics has compelled both nations to work together to face the emerging challenges, and this will be in the best interest of both countries, as well as for regional and global peace and stability. Both countries are facing similar challenges and identical issues, therefore, it is natural to work together in close liaison.
Common interests and shared views, as well as a convergence of interests, has brought two nations closer and the warmth of their relations has been very visible in recent years. Bilateral ties are growing in multiple dimensions, including the economic, defense, security, cultural, educational, investment, trade, energy, and political arenas. Their relationship is marked by mutual respect and trust.
Pakistan aims to forge a long-term multi-dimensional strategic partnership with the Russian Federation in almost all fields. Bilateral cooperation between the two countries dates back to Soviet times. Karachi Steel Mills, major thermal power facilities at Muzaffargarh, Multan-II, and Guddu were all built by the Soviet Union. The USSR also helped Pakistan in the establishment of the Oil and Gas Development Corporation Ltd. (OGDCL) and the development of Pakistan's agriculture sector.
Both countries have similar stakes in durable peace and stability in their common neighborhood and harbor shared aspirations for regional development and prosperity. The leadership of the two nations is in regular contact and the upward trajectory of bilateral relations is being maintained through sustained high-level interactions and strong institutional mechanisms. Pakistan's accession to the Shanghai Cooperation Organization (SCO), as a full member, has infused new energy into this bilateral relationship and Pakistan highly values the support extended by the Russian Federation during its membership process.
Exchanges between the leadership of the two countries are frequent. Prime Minister Imran Khan met with then Prime Minister Dmitri Medvedev on the sidelines of the 'China International Import Expo' on 5th November 2018. Besides. Foreign Minister Shah Mehmood Qureshi held a bilateral meeting with Russian Foreign Minister Sergey Lavrov twice in 2018; the first meeting was held in New York on the sidelines of the UN General Assembly's 73rd Session in September that year and the second one on 26th December 2018 in Moscow.
2017 was a particularly important year from a political point of view for both countries as significant meetings took place. These included bilateral meetings between both Prime Ministers in Astana on 9th June 2017 and in Sochi on 30th November the same year; the meetings were held on the sidelines of a high-level SCO meeting. There were also eight visits from Pakistan to Russia at the ministerial levels, including by Ministers of Foreign Affairs, Defence, Water & Power, Science and Technology, Industries and Production, Defence Production, Commerce and Textile, and National Health Services.
Institutional interactions have deepened the real strength of relations. Bilateral exchanges at the Parliamentary level have also expanded in recent times. Acting Chairman Senate Saleem Mandviwalla led a five-member delegation to the 'International Conference on the Role of Parliaments in the Modern World: Federation Council of the Federal Assembly of the Russian Federation — 25 Years on the Path of Multidimensional Parliamentary Cooperation'; it was held on 10th December 2018 in Moscow. Senator Mushahid Hussain visited Russia in October 2018 to attend the International Conference of Asian Political Parties (ICAPP). Former Speaker of the National Assembly Sardar Ayaz Sadiq visited Russia in December 2017 to participate in the conference on 'Parliamentarians Against Drugs'. He also led a 16-member delegation to the 137th Inter-Parliamentary Union Assembly in October 2017 to Saint Petersburg.
From the Russian side Chairman of State Duma (lower house of Russian Parliament) Vyacheslav Volodin paid the first-ever visit to Pakistan in December 2017 to participate in the six-country 'Regional Conference on Challenge of Terrorism and Inter-Regional Connectivity'. The Chairman of the Russian State Duma Committee on International Affairs, Mr. Leonid Slutsky, visited Pakistan in November 2017 and met with both the Speaker of the National Assembly and the Foreign Minister of Pakistan.
Pakistan and Russia are currently experiencing economic challenges and are collaborating to overcome these jointly. Bilateral trade between the two countries is increasing steadily. Pakistan's major exports to the Russian market include cotton, textiles, leather, synthetic fabrics, rice, fruits, surgical and sports goods. Our major imports include fertilizers, chemical elements and compounds, rubber, tyres and tubes, paper and paper board, iron and steel (raw and manufactured products), and machinery. The Pakistan-Russia Inter-Governmental Commission (IGC) on Trade, Economic, Scientific, and Technical Cooperation is an important institutional mechanism to review the whole spectrum of bilateral cooperation and chart down the roadmap for future developments. The Inaugural Session of the IGC was held in Moscow on 21st September 2010. The Fifth Session of the IGC was held in Moscow from 28th to 30th November 2017.
The Trade Wing of the Embassy is entrusted with the task of increasing bilateral trade between Pakistan and Russia. It stays in regular contact with the relevant Ministries and Departments of the Russian Federation, as well as of Pakistan to address the issues hindering the growth of bilateral trade. It is heartening to observe that bilateral trade between both countries is on an upward trajectory. Businessmen, importers, exporters, and investors of both countries are interested in establishing business relations with their counterparts and are encouraged to contact the Trade Wing for any kind of information or query. Trade Wing carries out a wide range of activities for the promotion of bilateral trade and investment relations between the two countries.
Energy cooperation has emerged as the most prominent feature of our bilateral relations, Pakistan being an energy deficient country and Russia being an energy-rich one as a leader in the global production of oil and gas. Pakistan and Russia signed an 'Inter-Governmental Agreement on the Construction of North-South Gas Pipeline' (NSGP) from Karachi to Lahore in October 2015. An 'Inter-Governmental Agreement on Cooperation in the Sphere of Liquefied Natural Gas' (LNG) was signed between the two countries on 13th October 2017. Both sides have also signed an MoU for conducting a feasibility study on an offshore gas pipeline project (September 2018) and, as a follow up to this, Russia's Gazprom and the Inter-State Gas Company Limited signed an MoU for a gas pipeline feasibility study regarding gas supplies from the Middle East to South Asia, on 6th February 2019. In addition, a proposal for the establishment of a 600 MW 'Combined Cycle Power Plant (CCPP) at Jamshoro Sindh is under consideration by both sides.
Rapidly changing geopolitics have compelled the two nations towards strategic defense cooperation. Pakistan-Russia defense cooperation has steadily increased and it is marked by frequent high-level contact between the two countries. Under the landmark 'Defense Cooperation Agreement' signed during the Russian Defense Minister's visit to Pakistan in November 2014, Russia delivered four (04) Mi-35 gunship helicopters to Pakistan. High-level exchanges between the military leadership of both the countries included:
Chief of Army Staff General Qamar Javed Bajwa's visit to Russia in April 2018,
Chairman Joint Chief of Staff Committee's visits to Russia in August 2018 to participate in the closing ceremony of the Army Games and the Joint SCO military exercise 'Peace Mission 2018',
A visit by Mr. Alexei Frolkin, the Deputy Director of the Federal Service for Military-Technical Cooperation of the Russian Federation, and the delegation he led to Pakistan for the '1st Session of Joint Russia-Pakistan Commission on Military Technical Cooperation' in March 2018,
The visit of the Vice Chief of Naval Staff and Pakistan Navy Ship 'Aslat' to St. Petersburg in July 2018 to participate in the Naval Parade,
The visit of Deputy Defence Minister of Russia Colonel General Alexander Fomin in August 2018,
The signing of an MoU on bilateral naval cooperation and training of Pakistani military personnel in Russian military institutions.
The Pakistan-Russia joint military exercise 'Friendship' has become a regular feature, the third one having been held in October 2018. Military-technical cooperation between the two countries has also strengthened over the years. The two militaries interact and participate in multilateral exercises under the aegis of the SCO. In this regard, Pakistan's participation in the SCO member states' Joint Military Anti-Terrorist Command Staff Exercise, 'Peace Mission-2018' in August 2018 in Chelyabinsk, Russia, is noteworthy. Reciprocal participation of each other's military delegations has also evolved into a regular feature of military-to-military cooperation between the two countries. The Pakistan Army participated in Russia's 'Army-2018 Exhibition' in Moscow, while the Russian side participated in Pakistan's 'International Defence Exhibition and Seminar (IDEAS) in 2019. Russia also participated in the multinational naval exercise Aman-2019 and attended the 2017 edition of the same exercise as well.
Although a limited number of Pakistanis live in Russia, the Pakistani Diaspora is very active and contributes to strengthening public diplomacy and friendship. The number of Pakistani nationals in Russia is approximately 1200. Among them, there are students, businessmen, professionals, and blue-collar workers. The Pakistani Embassy keeps close contact with the diaspora and helps resolve their problems diligently.
The Pakistan–Russia friendship is fast evolving into a mature partnership. Relations between the two countries are today characterized by mutual trust, commonality of interests, and convergence of views on important regional and global issues. Both countries have similar stakes in durable peace and stability in their common neighborhood, and harbor shared aspirations for regional development and prosperity. The upward trajectory is being maintained through sustained high-level interactions through strong institutional mechanisms and cementing cooperation in all dimensions.
Pakistan views Russia as an important global power, a significant development partner, and a salient contributor to regional stability. We believe that a long-term multidimensional strategic partnership between the two countries will be mutually beneficial for the people of Pakistan and the Russian Federation and would contribute toward regional peace and stability.
High expectations are linked to the upcoming visit of PM Imran Khan, as both President Putin and Prime Minister Imran Khan are visionary leaders and their chemistry is similar. Both are committed to global peace, stability, and prosperity.
Original Link:- https://strafasia.com/the-russia-pakistan-alliance-is-a-natural-one/