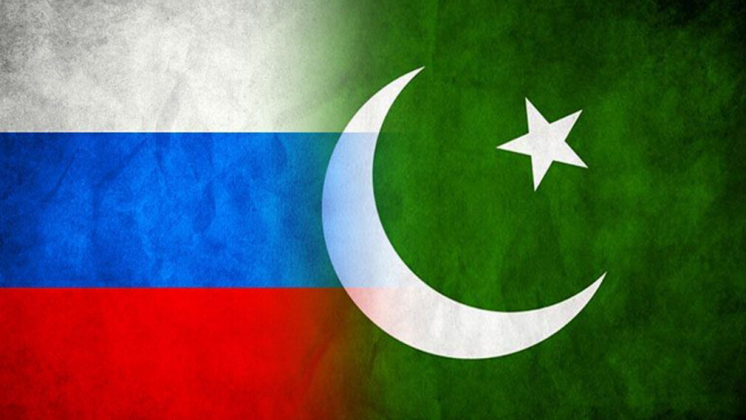 Rapidly changing geopolitics have witnessed many new developments. Like, Turkey is getting close relations with UAU. Saudi Arabia, and Egpyt. Turkey used to be a close ally with the US and a NATO member is getting closer to Russia. The US after being close with Pakistan for almost seven decades has shifted its strategic weight toward India. The US has signed a series of defense and strategic agreements, declaring India as a Major Defense Partner.
Pakistan is trying to keep balance and smartly establish relations with all peace-loving nations and countries, including Russia. Under the great leadership of President Putin, Russia has achieved a lot and revived almost and gained its traditional weight in geopolitics.
Russia and China's cooperation is the major cause of reverting to a multipolar world. Pakistan enjoys very cordial relations with both, China and Russia.
There exists huge potential for bilateral relations in almost all aspects of the economy and social developments. In fact, both countries were a victim of Western coercion and sanctions. Ultimately, both countries need to resolve such issues and overcome the impact of Wester's coercion and sanction. There is a strong will among the public to strengthen cooperation and collaborations in all fields of the walk.
The 9th meeting of the Russia-Pakistan Joint Working Group on Combating International Terrorism and Other Challenges to Security took place in Moscow on November 22, 2021, with the participation of representatives of competent authorities of the two States. The meeting was co-chaired by Deputy Minister of Foreign Affairs of the Russian Federation, Mr. Oleg V. Syromolotov, and Additional Secretary, Ministry of Foreign Affairs of the Islamic Republic of Pakistan, Mr. Nabeel Munir.
During the meeting, the sides exchanged ideas and discussed a broad range of issues related to the global fight against terrorism and extremism, including existing challenges as well as new and emerging threats to international and regional peace and security.
Russia and Pakistan acknowledged and appreciated each other's efforts in countering international terrorism, underscored the need for greater collaboration between the two countries on addressing the challenges to security, and renewed their commitment to counter the spread of terrorist propaganda in the information space, particularly on the Internet, and the phenomenon of foreign terrorist fighters. They highlighted that the spread of terrorist mindset and ideologies and the emergence of new forms of terrorism posed a grave challenge. Both sides reaffirmed their commitment to continue dialogue on countering the financing of terrorism.
As part of this strategic dialogue, Russia and Pakistan conducted a thorough exchange of assessments of global and regional terrorist threats, particularly in Afghanistan, the Middle East and North Africa, and Central and South Asia. The Russian Federation and the Islamic Republic of Pakistan agreed to further broaden their bilateral engagement on issues related to combatting international terrorism and other challenges to security and reaffirmed their willingness to work closely with each other on issues of common concern at key international platforms like the United Nations and regional bodies like the SCO. The next meeting of the Working Group will be held in 2022.
It is desired that the scholars, intellectuals, politicians, think tanks, in both countries may extend their collaboration and promote the already growing bilateral relations to new records. Potential exists, but, need to identify the areas of cooperation, and need to formulate processes and procedures to strengthen the relations. Especially in the areas like Education, Trade, Investment, Technology Transfer, Agriculture, Energy, and Tourism. It is very much expected that before the next meeting scheduled for 2022, one can see a visible development on the ground. It might require the policies formulation by both governments but also requires the hard work of civil societies and entrepreneurs too. We are very much optimistic about the recent developments and hope to accelerate this process.
Reference Link:- https://www.geopolitika.ru/en/article/russia-pakistan-joint-working-group-meeting