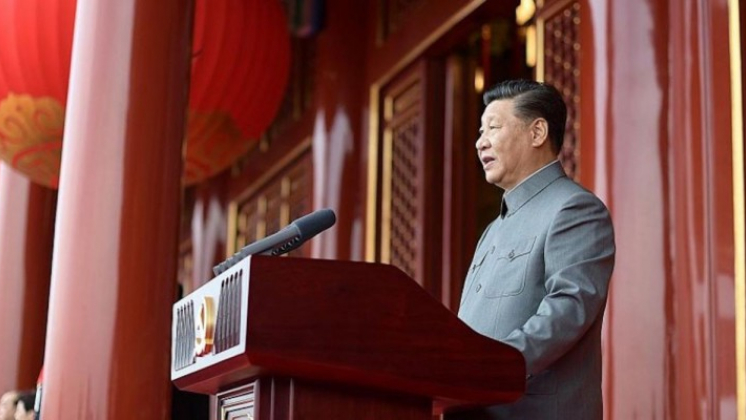 17.03.2022ChinaZamir Ahmed Awan
The "Two Sessions" are the most important event in the Chinese political system, which started on the 4th of March and concluded already. The closing meeting of the Fifth Session of the 13th NPC took place at the Great Hall of the People in Beijing on March 11, which was addressed by President Xi Jinping, who is also Chairman Military Commission and Secretary-General of the Communist Party of China. Below are the highlights of his speech:-
Five must paths:
Upholding overall Party leadership is the path we must stick to in order to develop socialism with the Chinese.
Socialism with Chinese characteristics is the path we must take to realize the rejuvenation of the Chinese nation.
Working hard in unity is the path the Chinese people must take to make historic achievements.
Putting into practice our new development philosophy is the path we must take to develop our country into a strong nation in the new era.
Exercising the full and rigorous self-governance of the Party is the path we must take to maintain the Party's vigor and vitality and ensure its success on the new journey.
A strong sense of community
Only when all ethnic groups live in unity and harmony can there be a prosperous country, a stable society, and happy people. Without ethnic unity and harmony, the country would decline, society would be destabilized and the people would suffer.
Carbon emissions peaking and carbon neutrality
When carrying out carbon reductions, we must also ensure the security of energy, food, and industrial and supply chains, as well as the normal life and work of our people.
Food security
Food security is among a country's most fundamental interests. Farmland is the lifeline of grain production and the foundation of the Chinese nation's sustainable development.
Rural vitalization
In advancing rural vitalization, we should not just focus on economic development. We must also make efforts to build stronger primary-level Party organizations in rural areas and attach great importance to raising farmers' ethical education. We must pay special attention to promoting the rule of law in rural areas, improving rural governance, and enhancing villagers' self-governance. We should give full play to village rules, villagers' code of conduct, and family values to foster civility and fine family traditions among rural people.
Social security
China has created the largest social safety net in the world. It is important we exert continued efforts to promote the high-quality development of social security, maintain overall institutional integrity and standards, and develop a multitier, multi-pillar old-age insurance system to gather more people under our social safety network. We should punish, in accordance with the law, pornography, gambling, and drug-related crimes and illegal and criminal offenses against women and children in rural areas. We should shore up weak links in social welfare across rural areas and extend particular consideration and care to disadvantaged groups such as elderly people and children, especially those elderly people, children, and women left behind in rural areas.
Strategically favorable conditions for China's development
The strong leadership of the CPC. The marked institutional strengths of socialism with Chinese characteristics. The solid foundation was laid by China's sustained and rapid development. The long-term social stability. The spirit of self-confidence and self-reliance.
Running the military in line with the law
The focus should be on building fully revolutionary, modernized, and standardized armed forces, and building a Chinese system for the law-based administration of military affairs. Foreign-related laws and regulations in the military field should be improved to better safeguard national interests through legal means.
As a matter of fact, his speech will be the guideline for the government to govern the country and achieve high targets of socio-economic developments.
Reference Link:- https://www.geopolitika.ru/en/article/key-points-president-xis-speech-conclude-two-sessions-china