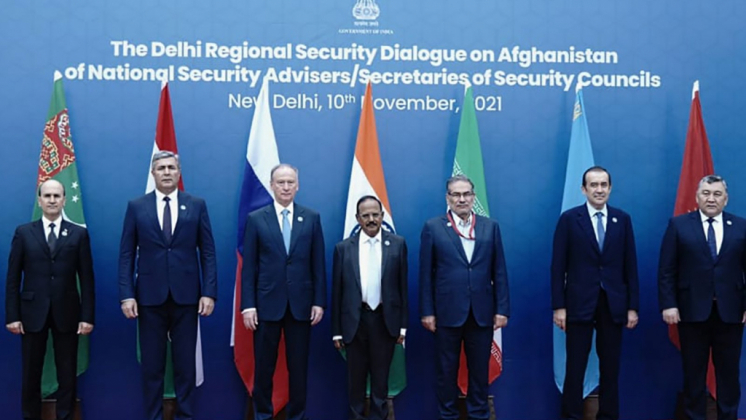 India, neither a neighbor of Afghanistan nor a well-wisher of Afghanistan, has organized a Regional Conference on the Afghan issue. However, India has invited all the neighboring countries of Afghanistan. But, Pakistan and China have not attended the conference.
Looking at India's role in Afghanistan, Pakistan and China have decided to keep away. In fact, India has no common border nor any cultural links with Afghanistan. Even do not understand Afghan issues, tribal system, domestic politics. But India was availing opportunities under the American occupation of Afghanistan. The US shifted its policies in 2004 and put all eggs in India's basket.
Previously, The US was a close partner with Pakistan for almost seven decades. Primarily, The US depended on Pakistan during the cold war era against the communism threat. Pakistan was a frontline state during the Afghan war in the 1980s and a non-NATO close ally in the war on terror. But, after winning the Afghan war in the 1980s and pushing the Taliban from power in 2001, the US was overconfident and underestimated Pakistan's potential. Even planned to wash out Pakistan from the World Map.
India availed the situation and entered into Afghanistan as an ally of the US. Captured Afghan market and exported Indian products, availed trade concessions and exploited the rich natural resources of Afghanistan. India also got contracts for significant projects in Afghanistan. In addition to economic benefits, India opened several Consulates along the border with Pakistan in Afghanistan and used their diplomatic missions to launch terrorism in Pakistan. Several terrorist attacks in Pakistan were traced back to Afghanistan, linked to India. India was openly supporting insurgencies in Pakistan and exploiting anti-Pakistan terrorist organizations in Afghanistan.
The US expectation from India was to help the US in the war against the Taliban in Afghanistan, but India tricked Americans and gained maximum economic and political benefits.
With the defeat of Americans and recapturing of the Taliban in Afghanistan, the Indians were embarrassed and desperately struggling to involve in Afghan affairs once again.
Pakistan and China understand Indian ill-intentions and know their psychic, have decided to remain away from any Indian trap.
Although the Delhi Regional Security Dialogue for Afghanistan was attended by representatives from India, Iran, Russia, Kazakhstan, Kyrgyzstan, Tajikistan, Turkmenistan, and Uzbekistan, but, with no concrete proposal. It was just Indian frustration with their failure in the region. India has been at odds with its neighbors like Pakistan, Bangladesh, Nepal, Sri Lanka, Maldives, Myanmar, and China. Yet, India is trying to make its value on a country with no common border – Afghanistan. The world understands the Indian spoiler role in Afghanistan, and Americans blame India for its defeat in Afghanistan.
It is worth mentioning that, for almost seven decades, Pakistan and America were close friends, and Pakistan was looking after American interests in this part of the world. Pakistan maybe is a small country but, a strategically pivotal state. Pakistan ensured that the US had achieved all its strategic goals in this region. But, since America was dependent on India, it faced one after another failure and lost its grounds in the whole region. Yet, Americans are making blunders and depending on India to counter China. Americans will be embarrassed soon.
Since the Taliban recaptured Afghanistan on 15 August 2021, India held its first formal meeting with Taliban officials last month in Qatar, and a few Afghans were represented at the conference. Independent security experts and former Indian diplomats who have served in Afghanistan in recent years say engagement with the Taliban is needed to counter the influence of rivals Pakistan and China. But, in the conference, there was no true representative of the Taliban, as India has not invited the Taliban. Strange!
The Taliban's acting foreign minister Amir Khan Muttaqi began a three-day visit to Pakistan on Wednesday. A Taliban spokesman in Kabul expressed optimism over meetings held in Islamabad, Moscow, Tehran, and other world capitals about the importance of Afghanistan to the region. "We are optimistic because the whole region needs stability and security in Afghanistan… the efforts that are going to happen to pave the way to understanding, and they are hopefully in the benefit of Afghanistan," said spokesman Zabihullah Mujahid. International donors in recent weeks have pledged more than $1.1 billion to help Afghanistan. Thousands of Afghans are fleeing the country daily to escape the poverty and hunger that has worsened since the Taliban took power.
Since the Taliban recaptured Afghanistan, the situation has been quiet and calm. Society is stable, and people feel safer. However, the economic crisis persists as the US has frozen the Afghan national assets and put sanctions on the newly established Taliban Government.
Few European nations have pledged to extend humanitarian assistance to save human lives is well appreciated, but not sufficient. It is appealed to the international community to assist Afghanistan generously and liberally. Instead of sanctions and economic coercion, Afghanistan needs assistance, cooperation, and collaboration to transform the region into a stable, safe, and prosperous land on the earth.
Reference Link:- https://www.geopolitika.ru/en/article/india-poking-afghanistan